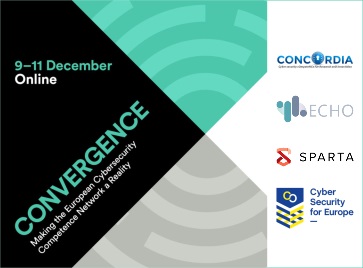 The Cyber Competence Network, comprising the four pilots CyberSec4Europe, SPARTA, CONCORDIA and ECHO held a two-day concertation event from 9-11 December, 2020 hosted online with the friendly support of the Representation of the State of Hessen to the EU.
Within ECHO session the project was introduced at 360 degrees, focusing on the results of its first two years of work with a concrete overview and demo of some of the products and services: the ECHO Early Warning System and the ECHO Federated Cyber Range. The session concluded a complete summary of the demonstration cases and the offered services.
The demonstration videos of E-EWS and E-FCR are available on ECHO's YouTube channel.