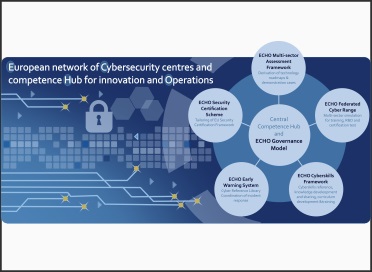 By Professor Wim Mees, Project Coordinator of the Royal Military Academy of Belgium
---
The ECHO project (European network of Cybersecurity centres and competence Hub for innovation and Operations) is one of four Pilot projects, launched by the European Commission, to establish and operate a Cybersecurity Competence Network. Amid keynote presentations from supporting representatives of EU agencies and industry, the project was officially launched at the Conference Hall of the Royal Military Academy of Belgium, on February 25th, 2019.
The ECHO project will deliver an organized and coordinated approach to strengthen proactive cyber defence in the European Union, through effective and efficient multi-sector collaboration. The project already involves 30 partners from the East to the West of Europe, and is actively engaging new partners interested to contribute to the cybersecurity resilience of the EU and in reaching the collaboration goals.
Through the project, the ECHO partners will develop, model and demonstrate a network of cybersecurity research and competence, with a centre of research and competence at the hub. While technology companies struggle with a fragmented view of security requirements across industrial sectors and fragmented national policies for security test and certification, the ECHO project will contribute an adaptive model for information sharing and collaboration among the network of partners and related agencies.
The main goal of the project is to organize and optimize the currently fragmented cybersecurity efforts across the EU.The ECHO impact will be far-reaching. ECHO offers sustainable governance for a cybersecurity competence network, increasing the cybersecurity of the Digital Single Market across the EU. ECHO provides multi-centre engagement opportunities for new partners from EU agencies, industries and academia. ECHO's approach will drive the possibilities to ensure resilient capacities to secure the European digital economy, infrastructures, society, and democracy.
Through collaborative information sharing, ECHO will deliver up-to-date knowledge of cybersecurity challenges, potential risks and threats together with forward-looking solution demonstrations that will contribute to improved understanding of the cybersecurity baseline and promote more effective use of the EU's cybersecurity capabilities. Ultimately, ECHO will enhance the stakeholders' capacities with better readiness and improved resilience capabilities.