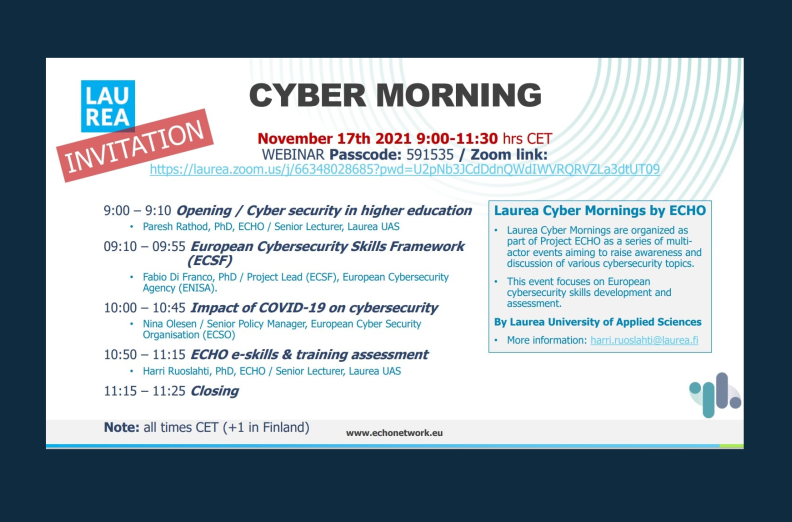 Laurea Cyber Mornings are organized as part of Project ECHO as a series of multi-actor events aiming to raise awareness and discussion of various cybersecurity topics. This November 17th event focused on European cybersecurity skills development and assessment and there were 45 active participants.
Laurea Business IT Senior Lecturer PhD Paresh Rathod opened by discussing cyber security in higher education and introduced the main speakers.
Project Assistant Athanasios Grammatopoulos of the European Cybersecurity Agency (ENISA) presented the European Cybersecurity Skills Framework (ECSF). With this framework, ENISA are creating a common understanding of the roles, competencies, skills and knowledge. This facilitates cybersecurity skills recognition, and supports the design of cybersecurity training programs. Cybersecurity is divided into categories, profiles, and mapping learning outcomes to create skills and knowledge of profiles.
Senior Policy Manager Nina Olesen of the European Cyber Security Organisation (ECSO) discussed the impacts that has had on COVID-19 on cybersecurity. The top concerns of ECSO members during the pandemic were increased fraud, cybercrime and cyberattacks; challenges of establishing guidelines for remote working; trusting remote data; and assessing customers. ECSO advocates awareness, cyber resilience measures, visibility for solutions and investment, capacity building and competitiveness.
Laurea Security and risk management Senior Lecturer Harri Ruoslahti presented the work on the ECHO e-skills & training assessment. Academic literature discusses current cyber security threats, and cyber related skills, but much less e-skills, which are divided as technical, situation awareness, and problem solving related to form a basis in creating an e-skills and training toolkit for project ECHO.
The closing was an interactive panel discussion between the three presenters and the audience, moderated by Paresh Rathod.
Recordings of these presentations are available:
Opening / Cyberse, Paresh Rathod, PhD, ECHO / Senior Lecturer, Laurea UAS:
https://video.laurea.fi/media/ECHO+Cyber+Morning+Opening+17.11.2021%2C+Paresh+Rathod/0_m3a8pmfm
Cyber Security in Higher Education, Paresh Rathod, PhD, ECHO / Senior Lecturer, Laurea UAS:
https://video.laurea.fi/media/ECHO+Cyber+Morning+17.11%2C2021++Cyber+security+in+higher+education%2C+Paresh+Rathod/0_60ia8gce
European Cybersecurity Skills Framework (ECSF), Athanasios Grammatopoulos, (ENISA), Project Assistant (ECSF), European Cybersecurity Agency (ENISA):
https://video.laurea.fi/media/ECHO+Cyber+Morning+17.11%2C2021++European+Cybersecurity+Skills+Framework%2C+Athanasios+Grammatopoulos/0_7c4rjre4
Impact of COVID 19 on cybersecurity, Nina Olesen / Senior Policy Manager, European Cyber Security Organisation (ECSO):
https://video.laurea.fi/media/Impact+of+COVID+19+on+cybersecurity%2C+Nina+Olesen/0_dq9re5v6
ECHO e skills & training assessment, Harri Ruoslahti, PhD, ECHO / Senior Lecturer, Laurea UAS:
https://video.laurea.fi/media/ECHO+Cyber+Morning+17.11%2C2021++ECHO+e+skills+%26+training+assessment%2C+Harri+Ruoslahti/0_wqhzzw46