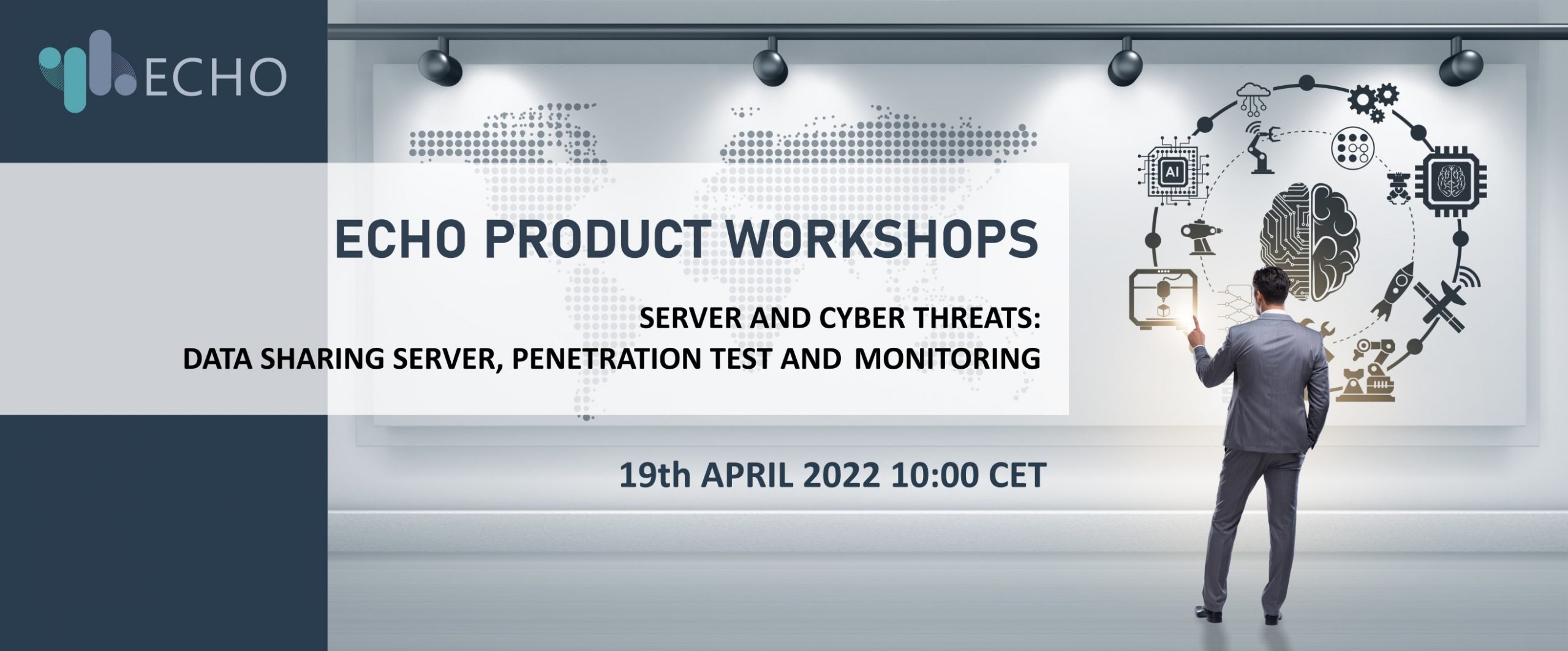 SAVE THE DATE!
ECHO is organising a 2-hours Workshop on cybersecurity software dedicated to server protection

SERVER AND CYBER THREATS:
DATA SHARING SERVER, PENETRATION TEST AND MONITORING
Date: 19 April 2022 at 10:00 CET

Location: ONLINE, MS Teams
The application is closed!
Who are we looking for?

Cybersecurity, information and ICT security specialists;

Professionals who are using server applications daily (e.g data management);


Students and IT enthusiasts
Course fee: free of charge

Focus of the programme
Server applications are widely used around the globe for connecting ICT services and sharing information between server-based and client-based applications. From surfing on internet to managing power plants, server-client structure is one of the main ICT communication forms. Severs have the ability to store an enormous quantity of data and make them usable on-demand by many clients at the same time. The connectivity and scalability of those communications make them vulnerable to cyber-attacks. Installing antivirus software is not enough to counter the cyber threats.
Alongside the Federated Cyber Range (E-FCR) and Early Warning System (E-EWS), the ECHO project has developed a set of software prototypes that address a large variety of cybersecurity issues.
We cordially invite you to participate in the first ECHO workshop "Server and Cyber threats". It will introduce the participants with a combination of tools for secure exchange of information, identification of vulnerabilities in complex systems, and network-based intrusion detection. The ECHO team will perform a cyber-penetration against one server of a hospital to check its reliability and suggest to the system designer a more secure configuration of the server infrastructure. Moreover, a software which is able to detect cyber intrusions on the network layer will be tested during the demonstration.
Here is the timetable of the workshop:
10:00 – 10:05 Opening
10:06 – 10:20 General ECHO project presentation - focus on prototypes
10:21 – 10:30 SISP presentation
10:31 – 10:40 PenTest presentation
10:41 – 10:50 SNORT presentation
10:51 – 11:00 SISP solo [demo]
11:01 – 11:15 PenTest attack on a server [demo]
11:16 – 11:30 PenTest attack on a server equipped with SNORT [demo]
11:30 – 11:40 Last round of questions
For more information on the ECHO assets check ECHO's YouTube channel!
Organiser of the programme

The ECHO Workshop is organised by the European network of Cybersecurity centres and competence Hub for innovation and Operations (ECHO)
More information: elearning@echonetwork.eu
The ECHO project is funded by the European Union's Horizon 2020 research and innovation programme under the grant agreement no 830943.